Supporting a Healthy, Engaged Community
Continuing Education Fall 2021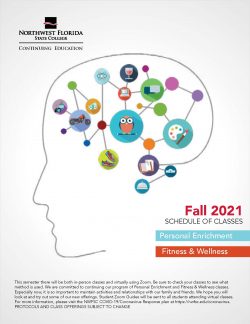 Click the image to see our Fall 2021 class schedule and to register! Also, click the image to download the PDF for mail-in registration.
Self-Improvement, Public Safety & Educational Courses Available
At Northwest Florida State College, we believe in supporting a healthy, engaged community by providing a variety of programs for self-improvement, public safety, and education.
Questions about our programs? Please contact (850) 729-4956.
Summer Continuing Education Welding Class:
MIG welding uses an electric arc to melt a wire electrode and fuse it with the base metal. This type of welding is relatively easy to learn since there is not much smoke or fumes. MIG welding is great for beginners and is perfect for making projects at home such as bar-b-que grills, metal art pieces and repairing metal yard furniture. Safety equipment is provided. Please wear blue jeans and closed toe, work boot style shoes.
July 10, 17, 24, 31
Saturdays, 8:00 a.m. – 12:00 p.m.
DeFuniak Springs, Bldg. 502
Fee: $225.00 CRN#: 40800
---
Personal Enrichment

Continue your education, in a fun and creative environment, learning and doing things you've always wanted to, with no tests or grades.  With over 50 classes to choose from, we provide flexible times and locations, to better fit your needs and schedule.  Classes are open to adults of all ages, and are offered at our Niceville, Ft. Walton Beach, Crestview, DeFuniak Springs, and South Walton campuses and centers. Classes include: Creative Arts, History & Politics, Hobbies, Finance, Computers, Food & Wine, Language & Personal Development, Workshops, Lunch & Learns and more.
Contact (850) 729-4956
Personal Enrichment Art Classes' Supply List
---
Fitness and Wellness

Get in shape with fitness classes at Niceville, Ft. Walton Beach, Crestview, DeFuniak Springs, South Walton campuses and centers – Yoga, Meditation, Pilates, Zumba, Tai Chi, Fitness Boot Camp, Ballroom Dancing, Tap Dancing and more. Classes run through the year and are offered from early morning until early evening.
Contact (850) 729-4956.
---
Junior Raiders

NWF State College offers several camps and programs for children, ranging from 1st grade to high school seniors.
Sports Camps
NWF State College Raiders Athletics boasts award-winning teams in softball, baseball, men's and women's basketball – all Conference, State and National Winners! Camps are offered throughout the year for each of these sports. Each camp is specifically designed for different ages, and includes team and group camps, as well as individual coaching.
For more information, please contact the Athletics department at (850) 729-5379.
Symphony Youth Orchestra
For more information about the Northwest Florida Symphony Youth Orchestra, please contact Lynne Fehrenbach, at (850) 687-6262 or fehrenbl@nwfsc.edu.