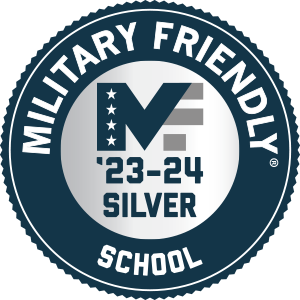 A Military Friendly Institution
Affordable Education for Military Members
Northwest Florida State College is proud to be a military friendly college. Our flagship campus is located adjacent to Eglin Air Force Base, and we also offer a satellite campus at Hurlburt Field, which was recently named one of the top 25 military testing centers in the nation by CollegeBoard.
DOD Tuition Assistance programs are available from the member's respective military branch and can help subsidize the cost of tuition. You must apply for and be approved for tuition assistance by following your military branch's procedures and filling out their provided form. Please contact your local education center for approval and more detailed requirements.
For more information about tuition assistance, please visit militaryta.com, or find your military branch below.
Coast Guard Tuition Assistance
The management of TA is centralized at the USCG Institute through a consolidated tuition assistance processing system managed by the U.S. Naval Education and Training Professional Development and Technology Center (NETPDTC) in Pensacola, Florida.
---
Re-Admission for Military Service Members
In compliance with our Memorandum of Understanding with the Department of Defense, DoD Instruction 1322.25, and NWFSC Board of Trustees Policy SS 7.00, service members shall be readmitted to a program with the same academic status as they had when last attending the school or accepted for admission to the school if they are temporarily unable to attend class or have to suspend their studies due to service requirements.
The student must notify the school of their military service and intention to return to school as follows:
Notification of military service. The student must give oral or written notice of such service to the school as far in advance as is reasonable under the circumstances. This notice does not have to indicate whether the student intends to return to the school and may not be subject to any rule of timeliness. (Timeliness must be determined by the facts in each case.) Alternatively, at the time of readmission, the student may submit an attestation of military service that necessitated the absence from school. No notice is required if precluded by military necessity, such as service in operations that are classified or would be compromised by such notice.
Notification of intent to return to school. The student must also give oral or written notice of their intent to return to the school within three years after the completion of the period of service. A student who is hospitalized or convalescing due to an illness or injury incurred or aggravated during the performance of service must notify the school within two years after the end of the period needed for recovery from the illness or injury. A student who fails to apply for readmission within these periods does not automatically forfeit eligibility for readmission but is subject to the school's established leave of absence policy and general practices.
Contact Academic Records & Enrollment at registrar@nwfsc.edu for more details.
---
Applying for Federal Financial Aid
How do I know if I'm eligible?
Northwest Florida State College uses the Free Application for 
Federal Student Aid (FAFSA)
 to determine financial need based on federal regulations and information supplied by you and your family.
Student Success Navigators are available to assist you via phone, live video chat, and in-person at every campus and distance center. You may schedule an appointment by calling 
(850) 502-2895
, or live chatting during regular business hours. Please check the 
Academic Calendar
 for key financial aid dates.
A FAFSA (Free Application for Federal Student Aid) must be completed for each academic year and one FAFSA serves throughout that entire academic year (Fall through Summer). The FAFSA becomes available each October for the following academic year, and you should apply as early as possible because many financial aid programs have limited funding that will go only to early applicants.
Financial Aid Priority Deadline
To have your financial aid processed in time for your registration fees to be paid by financial aid, you must complete all steps in the application process by the Financial Aid Priority Deadline:
June 1 for Fall Term
October 1 for Spring Term
March 1 for Summer Term
Late Applicants
If you miss the Financial Aid Priority Deadline for the term in which you wish to enroll, you still are strongly encouraged to apply for financial aid. Your application will be accepted and processed; however, it may not be processed in time for you to use your financial aid to pay for your fees and books. If this is the case, you will need to pay your tuition and purchase your books; then, if you qualify for financial aid, a refund will be issued to you later in the term. You can seek help with paying your tuition through the NelNet Tuition Payment Plan. Further information about this plan can be found on RaiderNet under the "Pay Fees" tab or by contacting the Business Office at 850-729-5385.