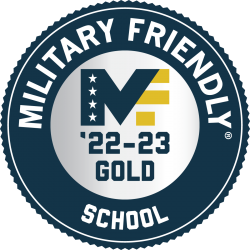 Dedicated Services for Our Military and Veteran Students
Supporting Our Nation's Heroes with a Military-Friendly Academic Environment
Veterans Services administers various veterans' and dependents' educational assistance benefit programs of the United States Department of Veterans Affairs for students attending this institution. The Veterans Success Center (VSC) staff are part of the Northwest Florida State College Office of Financial Aid, not the U.S. Department of Veterans Affairs (DVA).
In collaboration with VetSuccess on Campus (VSOC), our goal is to provide information and guidance about entitlements, filing claims to the DVA, certifying enrollments, and other supportive services for student veterans and eligible family members enrolled at Northwest Florida State College. We at the Veterans Success Center are here to serve you. Take full advantage of our expertise, and gain the most you can from this once-in-a-lifetime educational opportunity.
New students are highly encouraged to make their initial inquiries for VA educational benefits to the Veterans Success Center (Building 500) at the Niceville Main Campus.
For more information about NWF State College, please visit the Future Raiders page.
Are you an active-duty military member? You may qualify for Military Tuition Assistance.
Veterans Success Center
Established in February 2019 at the Niceville Campus, the Veterans Success Center is a one-stop shop to expand educational opportunities, transitional services and career services for veterans and their families. The Veterans Success Center offers a tranquil, professional and respectful location, including state-of-the-art infrastructure and technology, where student veterans and their family members can study or pursue other scholastic assignments. Additionally, the Veterans Success Center creates a cooperative community for student veterans and provides resources for leadership, support, advisement and campus engagement.
For more information, please call (850) 729-5375 or email va@nwfsc.edu.
Veterans Office Forms and Resources
VetSuccess on Campus (VSOC)
VetSuccess on Campus (VSOC) is a program through the Veterans Benefits Administration that places an experienced Vocational Rehabilitation Counselor directly on campus to assist and support student veterans and eligible family members. The VetSuccess on Campus Counselor serves as as a "liaison" for veterans on campus. All student veterans, Active Duty service members, and family members attending Northwest Florida State College can access the Department of Veterans Affairs through a full-time VA Counselor.
Contact Maronda Clark, VetSuccess Counselor at NWF State College, at Maronda.Clark@va.gov, or by phone at 1-334-213-1200, ext. 4086.
VetSuccess on Campus (VSOC) Counselor can assist you with:
Information on VA benefits such as life insurance, Home Loan Guaranty, Vocational Rehabilitation & Employment, and VA education benefits
Guidance and support while using your VA educational benefits
Vocational exploration and assistance in selecting a suitable career
Assistance with referrals to VA Medical Centers and local Vet Centers
Information on submitting a claim for disability compensation
Employment information and assistance
Locating community and other resources