President of Northwest Florida State College
Dr. G. Devin Stephenson
Welcome to Northwest Florida State College! We are honored that you have chosen us to help you reach your academic and career goals. NWF State College is one of Florida's premier state colleges – nationally recognized for educational excellence and community engagement. Working every day to provide a trained workforce for the next generation, NWFSC is ensuring our community's economic future by way of launching and maintaining relevant, high-quality academic programming.
---

The best is our standard, and we are committed to being the preeminent provider of college readiness, workforce development, and professional and continuing education. Dr. Devin Stephenson, NWF State College President

---
At Northwest Florida State College, we produce leaders, artists, champions, and hometown heroes who come from our diverse educational programming – welders, nurses, musicians, project managers, chefs, dental assistants, radiography technicians, medical coders, law enforcement officers, firefighters, emergency medical technicians, paramedics and high performing students who matriculate to a number of 4-year universities.
Your future begins at Northwest Florida State College and we're glad you're here!

---
President's Strategy Circle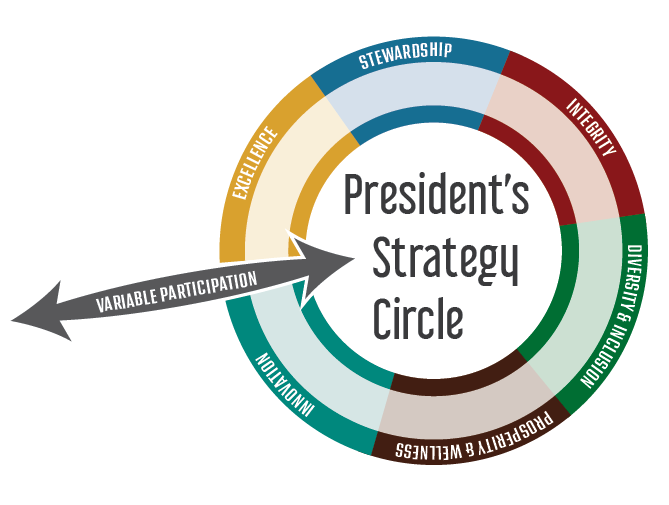 The Circle is a dynamic alliance of individuals regularly meeting to develop strategies, to innovate and to achieve extraordinary results, all within the context of the College's mission and vision.
The Circle will focus on the Strategy and Visioning function of the College to a smaller, more efficient gathering that is centered on advancing the College with proper fiscal management, effective communications and laser-focused and forward-directed decision making.
The Circle convenes, as called, with each meeting comprised of individuals selected from the following categories:
Senior Vice President
Vice Presidents
Deans
Other positional categories relevant to the discussion
The College will thrive in an innovative and entrepreneurial environment where all planning and implementation is in concert with President Stephenson's Look, Listen, Learn and Launch methodology.
Participants of the Circle sign the Northwest Florida State College Principles of Leadership to affirm their commitment and dedication to the College's Values and expectations for performance and accountability and their loyalty to leadership and peers.