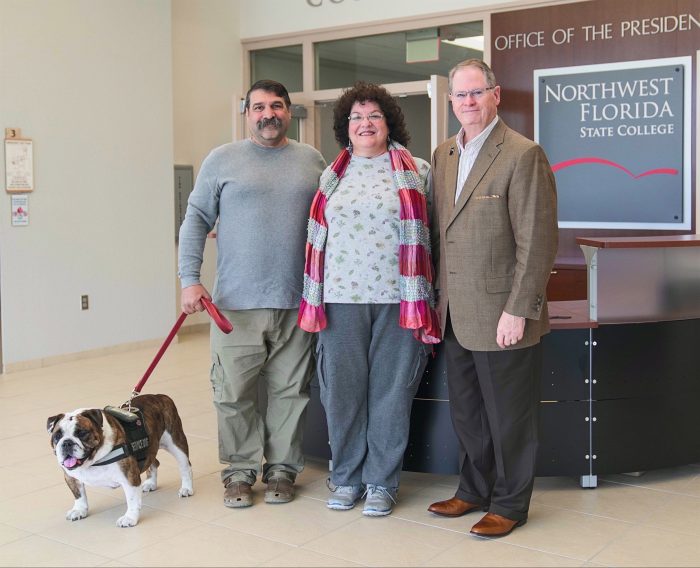 February 6, 2020
With an initial gift of $25,000, Jeff and Leonora Claudio have established the Jeff & Leonora Claudio Scholarship to support students pursuing degrees in either Nursing or Emergency Medical Services.
While working for an electronics firm contracted with the Department of Defense, the Claudios moved to Fort Walton Beach in 1982. After threats of base closures and lay-offs in the early 1990s, they were concerned about their employment outlook and decided to make a drastic career change.
Together they agreed that they would transfer into a profession insulated from fluctuations in the job market and decided upon the healthcare industry. Living an extremely frugal lifestyle, without financial aid or loans, they went back to school to pursue a degree in nursing.
The Claudios began their preparatory education at Okaloosa-Walton Community College and continued their training in area nursing schools, long before NWFSC (formerly OWCC) opened its nursing program. As they both advanced in their new professions, each of them kept ties with the College.
As a Nurse Educator, Leonora spent 14 years advancing the Nursing Education Department at North Okaloosa Medical Center working with local area nursing schools, including NWFSC.
For several years, Jeff worked in local hospitals, eventually landing at Putnam Regional Medical Center as Emergency Room Director. Jeff continues to teach cardiac-related classes as a volunteer in the NWFSC Summer RN program.
Recently retired, the couple now hopes to support students following in their footsteps. They know first-hand the financial need faced by today's students. Their hope is that NWFSC Nursing and EMS students will have a lighter financial burden while pursuing their dreams for a better, more secure life.
"At least 93% of our nursing students are employed within six months of graduation and a vast majority of them have jobs right here in Okaloosa and Walton counties within three months," said NWFSC President Dr. Devin Stephenson. "The Claudios' generous gift not only immediately benefits our hardworking and deserving students, but ultimately impacts our community as our highly skilled and professionally trained nurses and EMTs enter the local workforce."
For more information about partnership opportunities or ways to support Northwest Florida State College, please contact the Foundation office at (850) 729-5357 or foundation@nwfsc.edu.
---
Share this article
[Sassy_Social_Share]