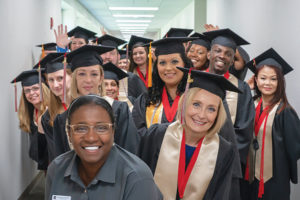 May 11, 2020
Although the world is filled with much uncertainty, Northwest Florida State College (NWFSC) is working diligently to continue providing a safe, affordable foundation on which you can build your career, your next chapter, your future. We're more than just a campus of buildings, we're a close-knit family that's dedicated to your success.
NWF State College opened its doors in 1964 and has become one of Florida's premier state colleges – nationally recognized for educational excellence and community engagement. Working every day to provide a trained workforce for the next generation, NWFSC is ensuring our community's economic future by way of launching and maintaining relevant, high-quality academic programing. We offer 27 associate degrees, five bachelor degrees and 35 certificate/other programs. To highlight a few:
NWFSC's Welding Program was named top educational institute in the nation in 2018 and is also recognized as an Accredited Test Facility (ATF) by American Welding Society.
Our Nursing program consistently ranks among Florida's top 10 amongst all Florida colleges and universities according to percentage of licensure pass rates by RegisteredNursing.org (currently #8). Our graduates boast a 99% pass rate on the NCLEX certification exam.
NWFSC Fire and Safety Program grads achieved a 100% pass rating on both the state practical and written exams, and our Public Safety Institute is ranked #6 in Florida.
Our Teacher Education program received an "A" grade in the area of Early Reading Instruction for the 7th year in a row along with the distinction of "consistently high-performing undergraduate program" from the National Council on Teacher Quality's Teacher Prep Review.
Committed to transformation across Northwest Florida, our mission is to improve lives by providing a high-quality, globally competitive education that is a catalyst for cultural, civic and economic development throughout this region. Ultimately, we aim to inspire our students to become something greater than themselves and move our local community forward. More than 84% of our graduates enter the job market right here in Okaloosa and Walton Counties, keeping homegrown talent in our backyard. According to EMSI Impact Report 2018, Northwest Florida State College's annual economic impact to the region is $326.2 million of added income with more than 7,335 jobs supported.
At Northwest Florida State College, we produce leaders, artists, champions and hometown heroes who come from our diverse educational programming – welders, nurses, musicians, project managers, chefs, teachers, radiography technicians, medical coders, law enforcement officers, firefighters, emergency medical technicians, paramedics and high performing students who matriculate to a number of four-year universities.
Your future begins here at Northwest Florida State College. Enrollment for the Summer/Fall 2020 term is underway! Summer classes begin May 18 online. Fall term begins August 19.
We encourage you to visit www.nwfsc.edu to learn more about our programs or call 850-502-2895 to speak to one of our Student Success Navigators.
This article was featured in Bay Life Magazine on May 11, 2020
---
Share this article
[Sassy_Social_Share]