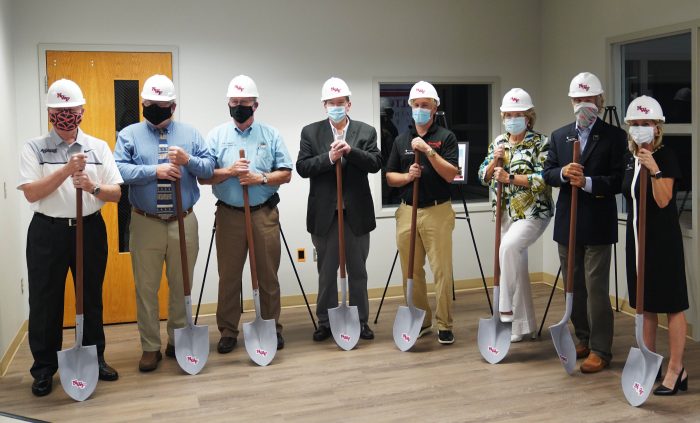 July 10, 2020
NICEVILLE – Summer showers and soggy ground conditions could not keep Northwest Florida State College from proceeding with the rescheduled groundbreaking for its new Walton Works Training Center of Excellence at the Chautauqua Center in DeFuniak Springs. Members of the local community joined Walton County Officials, NWFSC Board of Trustee members along with College personnel to celebrate the building of this transformational center that will position the region for quality growth and enhance workforce, economic and community development opportunities throughout Northwest Florida. Originally scheduled for early April, this event had to be postponed to July 9 due to the uncertainty of the pandemic.
The Walton Works Center of Excellence will house 10 new workforce programs, preparing students to earn industry-recognized credentials including state licenses and certifications. The project will expand career education programs in public safety (law enforcement, fire, emergency medical technician (EMT)), cybersecurity, drone technology and building trades (plumbing, electrical, welding, millwright and construction). By 2024, a minimum of 1,570 industry-recognized certifications will be awarded, providing an expanded talent pool that will bolster northwest Florida's economy.
Made possible by the commitment of $1.5 million of Walton County RESTORE Act funds approved by the Walton County Board of County Commissioners and endorsed by the Walton County Administrative team, this project received a substantial match needed to gain approval by the Triumph Gulf Coast Board. This is the College's first project to receive approval from the Triumph Gulf Coast Board. The Triumph Gulf Coast Board committed $2.7 million dollars of funds, recovered for economic damages to the Florida Panhandle that resulted from the 2010 Deepwater Horizon BP oil spill, to the Walton Works Training Center of Excellence. In addition, the Walton County Sheriff's Office is partnering with the College to provide access to training facilities (firing range and driving range) in DeFuniak Springs for students in the Law Enforcement, Fire and EMT programs to develop skills, and CareerSource Okaloosa Walton will provide placement assistance to employers and job seekers.
"We are honored to share this collective vision for workforce education in Northwest Florida and are deeply grateful to Chairman Don Gaetz and the Triumph Gulf Coast Board for creating hope and opportunity in this entire region" said Dr. Devin Stephenson, President, Northwest Florida State College. "I am proud of our faculty and staff for their unwavering commitment to improve lives by providing a high-quality, globally competitive education that is a catalyst for cultural, civic and economic development throughout the region."
The site work for the new industrial trades and drone facilities is complete and the foundation is in position. Guests attending the Walton Works Training Center of Excellence were treated to a tour of the interior renovations taking place in existing Buildings 500 and 501, which create a dedicated testing center, cybersecurity classroom, information/advising intake area and machining lab. Classes are expected to begin onsite in Spring 2021.
For further information about the NWFSC Walton Works Training Center of Excellence, contact Dr. Michael Erny, Dean of Business, Technology and Engineering, at 850-729-6051 or ernym@nwfsc.edu.
####
Pictured (left to right): Dr. Devin Stephenson, NWFSC President; Bob Campbell, DeFuniak Springs Mayor; Walton County District 1 Chairman Bill Chapman, Walton County Commissioners; Larry Jones, Walton County Administration; Shane Abbott, NWFSC Trustee; Charlotte Flynt, NWFSC Trustee; Rudy Wright, NWFSC Trustee; Lori Kelley, NWFSC Trustee Vice Chair simulate a groundbreaking for the Walton Works Training Center of Excellence
---
Share this article
[Sassy_Social_Share]