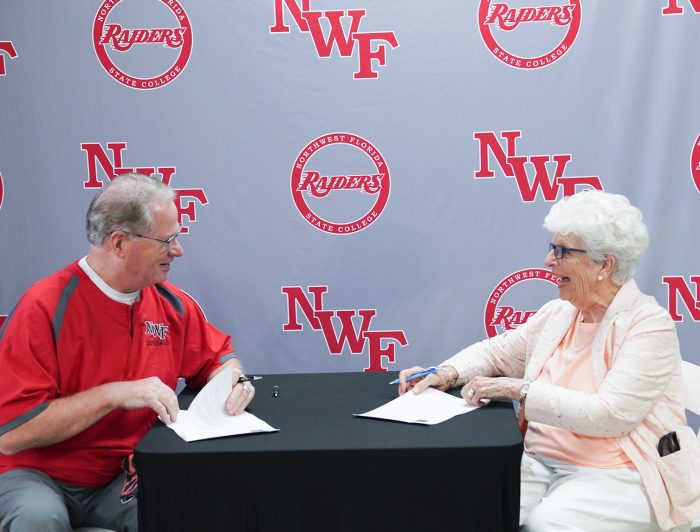 November 30, 2020
Eileen H. Arpke, an ardent advocate and supporter of Northwest Florida State College (NWFSC), has created a fourth endowment through the NWFSC Foundation.  The newest endowment, established with a gift of $20,000, will create an award to recognize faculty excellence.
Ms. Arpke has previously established the Charles and Eileen H. Arpke Scholarship, the Eileen H. Arpke Scholarship and named the Charles K. and Eileen H. Arpke Conference Room. Since moving to the area in the 1980s, she has supported almost every area of the College, including the Northwest Florida Symphony Orchestra, President's Circle, Raider Athletics and the Institute of Senior Professionals. Her most recent Grand Slam-level gift assisted in closing the gap on the necessary funds needed to construct the Raider Athletic Department's New Indoor Practice Facility. Ms. Arpke served as a Northwest Florida State College Trustee from 1987 to 1994.
The Eileen H. Arpke Faculty Excellence Award will consist of a cash award and commemorative medallion that will celebrate quality, promote academic excellence and reward competencies in teaching and engaging students in the liberal arts and sciences disciplines at NWFSC. The annual award process will consist of a thorough review of faculty successes and contributions to the College and community through a vetting process that ultimately leads to the nomination of three faculty candidates, which will be presented to the College President, who will select the awardee.
"Eileen Arpke's generosity to Northwest Florida State College knows no bounds, and we are sincerely grateful," said NWFSC President Dr. Devin Stephenson. "She is a true friend of the College, with an effervescent spirit that is embodied in her latest endowment to honor our outstanding faculty members."
For more information about partnership opportunities or ways to support Northwest Florida State College, please contact the Foundation office at (850) 729-5357 or foundation@nwfsc.edu.
---
Share this article