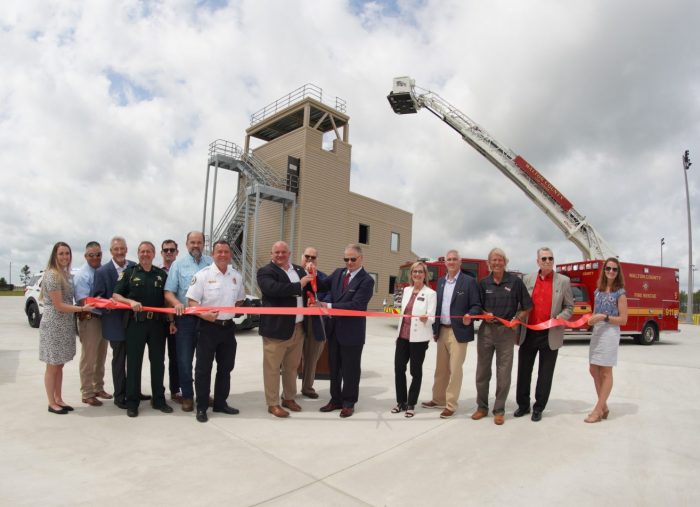 May 3, 2021
With a shared vision for excellence, Northwest Florida State College along with the Walton County Sheriff's Department have created a preeminent public safety training facility that will transform the career opportunities available for the citizens of both Walton County and the entire Northwest Florida Region. The Walton Works Public Safety Complex is located at the Walton County Sheriff's Complex in DeFuniak Springs. On April 29, members of the local community joined Walton County officials, NWFSC Board of Trustee members and College personnel to celebrate the grand opening of this multi-functional complex.
The morning's event brought together numerous partners, all dedicated to transformational action in Walton County. The Walton County Board of County Commissioners' generous allocation of $1.5 million RESTORE Act dollars advanced this project into a reality. Additionally, the Walton County Sheriff's Office's unwavering commitment to creating the region's finest public safety training center led to generous donations of equipment to be used by future fire fighter candidates in real-life training opportunities.
NWFSC is honored to share the vision for workforce education in Northwest Florida with the Triumph Board under the leadership of Chairman Don Gaetz and is thrilled to be expanding our top-ranked Public Safety program into north Walton County. The training opportunities offered at the Walton Works Public Safety Complex will produce hometown heroes who will immediately make an impact in our local community.
"Our commitment to being a leader in Career and Workforce training led to the expansion of our public safety program and this partnership with the Walton County Sheriff's Office," said NWFSC President Dr. Devin Stephenson. "I am humbled to contribute to this legacy alongside Sheriff Adkinson that is positioning our entire region for quality growth."
The fire tower in Walton County will be used to provide training to firefighters by using controlled environments that replicate actual conditions. This structure incorporates a second-floor burn room, which provides additional training opportunities not available elsewhere in the region.
For more information about the Walton Works Public Safety Training Complex or public safety programs being offered at Northwest Florida State College, please contact Dr. Jeff McGill at (850) 729-6029 or mcgillj1@nwfsc.edu.
EVENT PHOTO GALLERY: nwfsc.smugmug.com/Fire-Tower-Ribbon-Cutting/
---
Share this article
[Sassy_Social_Share]