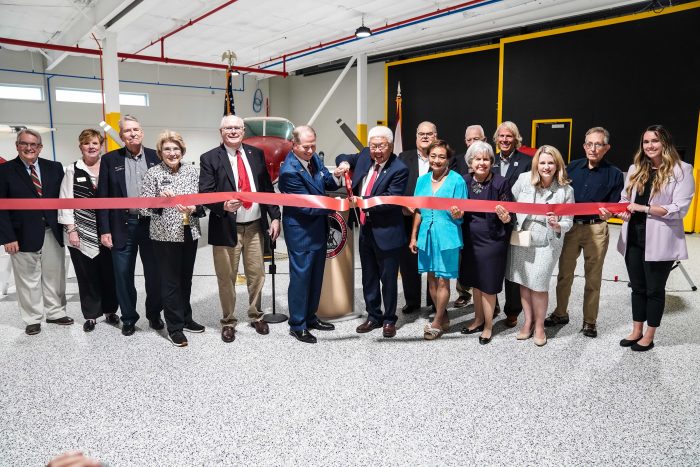 June 28, 2021
Northwest Florida State College's Aviation Center of Excellence (ACE) is officially open at the Hsu Innovation Institute North in Crestview. More than 200 members of the local community attended the celebration. With a shared vision for excellence, Northwest Florida State College along with the Hsu Educational Foundation, the Okaloosa County Board of County Commissioners, Okaloosa County Airports, Florida Department of Transportation, Triumph Gulf Coast and many more have come together to create a 27,000 square foot state-of-the-art training facility complete with hangar and lab space outfitted with Snap-On work benches that will offer high-tech career opportunities for the entire Northwest Florida Region.
Aviation is a fast-moving and growing industry. There is a great need to have skilled personnel to maintain and fly aircraft; and to ensure the air transportation system runs smoothly on a global scale. Over the next ten years, air travel traffic is expected to increase by 4% with the addition of 2.1 million jobs in operational fields, according the 2020 Boeing Commercial Market Outlook.
Northwest Florida State College's Aviation Program is poised to set students up for success in the aerospace industry offering programs in Professional Pilot Technology, Airframe and Powerplant as well as Unmanned Vehicle Systems Operations. Over the next 10 years, the project anticipates at least 307 students will earn 1,255 FAA industry-recognized certificates, with 184 to be certified in airframe and powerplant mechanics and 123 to gain professional pilot certificates, providing an expanded talent pool that will bolster Northwest Florida's economy.
At the Aviation Center of Excellence, our collaboration with the Hsu Educational Foundation creates a unique learning environment where students in grades K-12 will also have the opportunity to utilize the state-of-the-art facilities for STEM education around the College's Aviation programming with the ultimate goal of introducing students of all ages to advanced technology in high-growth industry sectors.
"What you are seeing today is just the start of much growth for the Bob Sikes Airport, and I believe there will be a couple of more phases to this project in the future," said Dr. Paul Hsu. "I thank our partners for believing in this joint vision."
NWFSC is honored to share the vision for educational opportunity, economic development and improvement of quality of place in Northwest Florida with the Triumph Board and Chairman Don Gaetz. We are deeply honored to share this collective vision for workforce education in Northwest Florida and are grateful to the Triumph Gulf Coast Board for creating hope and opportunity in this entire region.
"Triumph Gulf Coast supports this project because of the benefit that it will bring to the students," said Triumph Gulf Coast Board Chair Don Gaetz. "Students in K-12, college-aged and adult learners will earn national industry-recognized certifications in all of the areas of aviation; and those certifications will provide the skills needed by the aviation employers that we are attracting in greater numbers here in Northwest Florida,"
The grand opening celebration brought together many partners all dedicated to transformational action in Okaloosa County. The Okaloosa County Board of County Commissioner Aviation Board's generous contribution of more than $600,000 to fund the front parking lot on airport land launched this project into a reality. Okaloosa Board of County Commissioners Chair Carolyn Ketchel is a true champion for advancing the aerospace industry in our region. "I saw this from the ground up, as an idea, and that is what is so gratifying as a County Commissioner," said Ketchel. "You see ideas begin, then on paper, in design, and tonight we get to see the reality."
"Today's event is not about leaving a legacy but leaving opportunity and promise for generations to come – an onramp for bright futures for many citizens who will benefit from this high-value training center," said NWFSC President Dr. Devin Stephenson. "I am humbled to stand beside such visionaries to make this a reality and contribute to positioning our entire region for quality growth."
For more information about the Aviation Center of Excellence or career education programs being offered at Northwest Florida State College, please contact Dr. Michael Erny at (850) 729-6051 or ernym@nwfsc.edu.
EVENT PHOTO GALLERY: https://nwfsc.smugmug.com/Aviation-Center-of-Excellence-Grand-Opening/
---
Share this article
[Sassy_Social_Share]