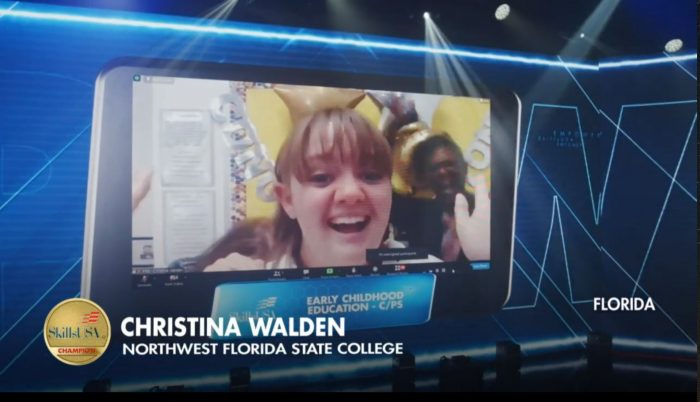 July 15, 2021
After four years of encouragement, Northwest Florida State College Early Childhood Education student, Christina Walden finally joined SkillsUSA. She said looking back, she doesn't know what took her so long to join, but she's glad she was talked into it.
"I started pursuing my Early Childhood Education degree in 2015, and I recently graduated with my bachelors," said Walden. "The whole time I've been going through the program, my instructor Bev Sandlin kept asking me, 'Will you do Skills? Will you do Skills?' and every time I kind of blew her off, but this time I finally decided to go for it."
SkillsUSA is a national workforce preparation association whose goal is to produce the most highly skilled workforce in the world by focusing on training in technical, personal and workplace skills. Competitions drive SkillsUSA and push members to show what they have learned through practical application in job skills including electrical, plumbing, early childhood education and many more.
"For the state competition, I had to do a science lesson plan and for nationals I had to do math," Walden said. "I had to come up with a lesson that went along with the topic assigned to me, and I also had to do a transition activity so I chose to read a book and have an activity to go along with it."
Walden submitted her written lesson plan along with a video showcasing her role-playing her lesson to SkillsUSA, for both the state and national competition. Usually competitors travel to state and national competitions and also take part in hiring fairs and networking groups while at the event, but this year's awards ceremony was presented virtually.
When her name was announced as the gold medalist in the Early Childhood Education category, Walden said she was grateful for the opportunity and looks forward to the future. She said she plans to pursue a Master's degree in Early Childhood Leadership and wants to continue working with children along the way.
"Students who push themselves to be the best during their educational endeavors become strong and successful leaders in their careers," said Dr. Devin Stephenson, NWFSC President. "Christina Walden exemplifies our institution's motto to make the best our standard. Congratulations to her for taking the gold!"
For more information about the Northwest Florida State College's Early Childhood Education program, please contact Dr. Sandy Arteaga at (850) 729-5341 or arteagas@nwfsc.edu.
---
Share this article
[Sassy_Social_Share]