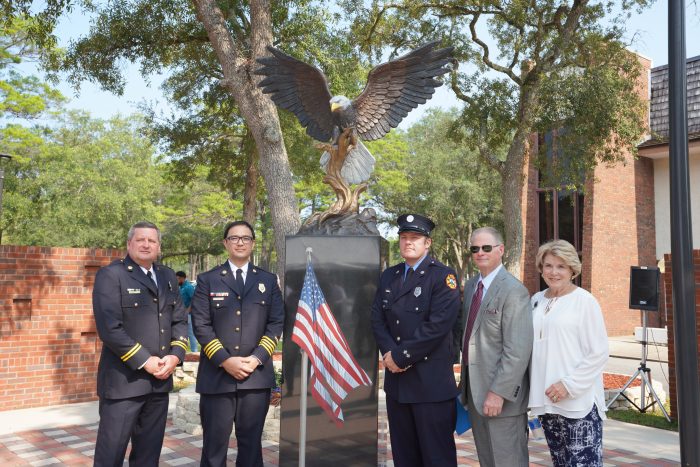 July 28, 2021
On a perfect July morning, members of the local community joined Okaloosa and Walton County Officials, NWFSC Board of Trustee members along with College personnel to pay tribute to our local fallen public safety professionals from both Okaloosa and Walton counties – law enforcement officers, fire fighters and first responders. Northwest Florida State College's Public Safety Memorial is the first of its kind in the panhandle region and provides a tranquil space to honor and remember those who so bravely gave their lives, the ultimate sacrifice.
Construction for the external brick boundary wall started more than eight years ago with an initial gift campaign, but the space came to life in early 2019 with a generous donation from Ms. Dotty Blacker, who specified that her gift must go toward honoring our local first responders because "they don't receive the recognition that they deserve." Thus, the idea for a statue symbolizing each service branch, a tower that incorporates military service members and plaques characterizing each of the fallen service members in Okaloosa and Walton counties was born.
"The names on this memorial rest in their place of honor to help heal the hearts and souls of the families and co-workers of the fallen and to serve as a reminder of the great sacrifices made daily by our service men and women," said NWFSC President Dr. Devin Stephenson. "I encourage everyone to make a visit to the NWFSC Public Safety Memorial on our Niceville campus to gain strength and resolve from the legacy of those who will live on forever."
For more information about the Public Safety Memorial at Northwest Florida State College, please contact Chief Aaron Murray, Executive Director of Campus Safety and Security at (850) 729-5260 or murraya@nwfsc.edu.
---
Share this article
[Sassy_Social_Share]