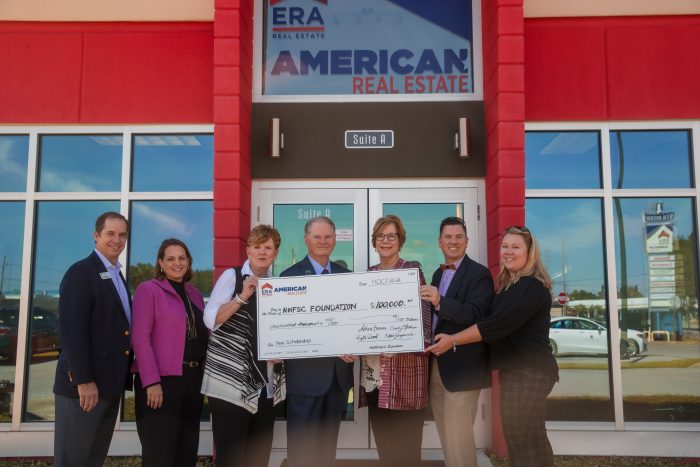 October 15, 2021
NICEVILLE, FL – Gloria Frazier and the leadership team of ERA American Real Estate made a gift of $100,000 to Northwest Florida State College Foundation to establish the ERA American Real Estate Endowment. The gift was made possible through a portion of the real estate commissions received from the sale of the College Courtyard Apartments in the summer of 2021. This endowment serves as seed funding for the newly established Raiders Champions Scholarship. This scholarship fund will support full-time, degree-seeking students who are recent high school graduates from Okaloosa and Walton Counties.
"The ERA American Real Estate endowment serves as the lead gift for the Raiders Champions Scholarship to ensure local area students have the financial resources they need to begin their educational journey," said Dr. Devin Stephenson, President of Northwest Florida State College. "I am grateful to Gloria Frazier and ERA American Real Estate for their demonstrated commitment to improving lives within our community."
Frazier founded ERA American Real Estate in 1981. Today, it is ranked among the top 15 firms, nationally, within the ERA brand. For more than 40 years they have provided property management, residential and commercial sales services.
In 1993, ERA American Real Estate established its first endowment with Northwest Florida State College, creating a scholarship to assist Okaloosa County students with financial need pursuing a degree in business. ERA American Real Estate has also supported a myriad of college programs including the Northwest Florida Symphony Orchestra, Raider Athletics, Choctawhatchee Basin Alliance, and scholarships to support first-generation college enrollees.
"We have been partners with Northwest Florida State College for many years and were honored to be selected to assist in the sale of the apartments," said Frazier. "We are proud to be able to further support scholarships at the college through this gift and help local students achieve their educational goals."
This gift was also made possible through the generosity of three long-term members of ERA American Real Estate team. Director of Property Management, Keith Wood, and ERA American Real Estate brokers Nikki Segraves and Cindy Frakes, contributed many hours to the successful closing of the College Apartments.
Pictured: (Left to Right) Chris Stowers, NWFSC Foundation Executive Director; Cristie Kedroski, NWFSC Senior Vice President; Cindy Frakes, ERA American Real Estate Broker; Dr. Devin Stephenson, President, NWFSC; Gloria Frazier, President, ERA American Real Estate; Keith Wood, ERA Director of Property Management; and Nikki Segraves, ERA American Real Estate Broker
---
Share this article
[Sassy_Social_Share]