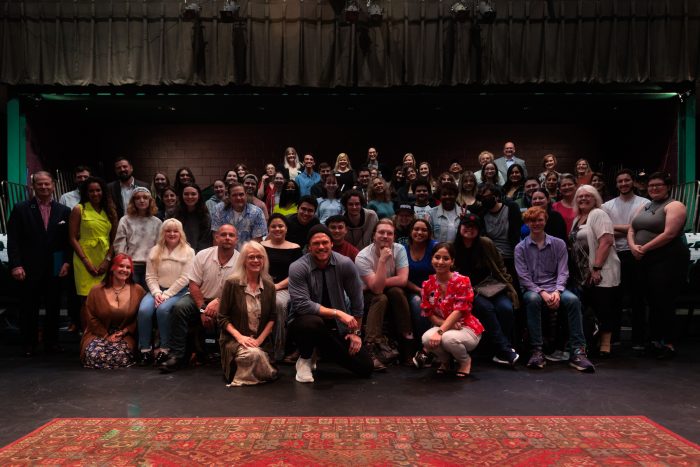 April 13, 2022
Northwest Florida State College was pleased to welcome American actor Alan Ritchson back to College's Niceville campus last month as he hosted a Q&A session for students, faculty, and staff. Alan, who has gained prominence for portraying Jack Reacher on the popular Amazon Prime television series "Reacher," is a Niceville, FL native and an alumnus of Northwest Florida State College. While at NWFSC, he was a student in the Fine & Performing arts department and was a member of the Soundsations and Madrigal Singers.
As he spoke to the NWFSC community, Alan stressed the importance of remembering where you come from.
"I've had a lot of help from when I was broke and living on my own, and people would donate mattresses for me to sleep on, and I didn't have a bed frame because I couldn't afford one. Those kinds of things stay with you, you know?" Alan said. "It's great to see the resources being put into the community here. Hopefully, you guys are the beneficiaries of the love that this community is putting into this place- into our next generation of performers and creative minds."
Alan's early acting credits include the portrayal of Aquaman in the long-running series "Smallville," which was the first role of the superhero in an officially released live-action production. He gained further prominence for portraying Thad Castle on the Spike TV sitcom "Blue Mountain State." He also headlined the SyFy action series "Blood Drive" and returned to superhero television as Hawk on the HBO Max series "Titans."
Aside from being a talented actor, Alan is also a writer, producer, and director. He recently made his feature directorial debut with the high-speed cyber-thriller from Lionsgate, "Dark Web: Cicada 3301", which he also wrote and starred in. In addition, Alan produced and co-financed Amazon's SEBERG, which sold internationally at Cannes in 2018 and premiered at the Venice International Film Festival in 2019.
---
Q: We've seen all these roles you've been playing. But the big question we have is how did your journey begin? How did you get your foot in the door?
A: Well, I enrolled at OWC (Okaloosa-Walton College). That's this place 20 years ago.
I didn't really know what I wanted to do. I didn't have influences growing up. My parents were in the military, which is why we were here.
There was no roadmap or blueprint for me to follow. I just knew what I enjoyed and the feedback I got when I would sing. So, you know, there were cues guiding me along the way. I took classes here in high school and did some of the plays early on, and I thoroughly enjoyed it.
It was also tricky for me, though, because I questioned it. You know, formal education systems have changed over the decades, but I questioned what value this would be for a financial career.
Life took me to L.A. Being out there, guys are auditioning all over the place. I found a friend, a guy who was able to send me on auditions. And I was like, let's see if I make a little extra money on the side.
I ended up booking a role on the show Smallville, and that blew the door wide open for me, as far as the film and television industry is concerned.
Q: Do you have any auditioning tips?
A: Auditioning is an interesting part of the business because it's nothing like the actual performance. It's nothing like what's going to happen. So much of what's there is without pantomiming, you know, without making it look like you're manufacturing people that aren't there and props that aren't there, so there's a fine art to auditioning.
When I'm going for a role, I'm competing against everybody who wants that role that there's no chance. There are so many people that are better. So, when I go into those rooms, I'm going out for blood. It is like life and death, and I treat it that way. And you should too. It's that hard to be the one to cut through the noise.
What is it that makes you different? What do you bring to the role and the production? Knowing the material, having spent time, understanding as much as you can about the source material. Is it just a screenplay? Is there a book you can read? Is it based on comic books? Is there a movie? What do you have to work from? Put all that in.
Then start breaking down the character. How does this character deal with the socioeconomics of this time? The history that they're living through at the moment, the world that they're in, having the circumstances that they're dealing with, the before, the after, and what is going on behind the lines. Put all that in and then process all that through the imagination with the scenes that are taking place.
Let it all play in your mind, whether it seems relevant or not, until it starts to come out in your own body, in your language, in your voice. Let it manifest itself.
Q: What is it like being on Reacher, and what made you go after that role?
A: It's fun, you know. It's not lost on me the visibility that this role provides. It's one of the highest-selling book franchises of all time. It's pretty incredible to be a part of something like that that has touched so many lives.
That's not lost on me, but at the same time, my job is to forget that and to focus on the material and try and breathe as much life into that character. It's intense because I'm putting a lot of energy out, blocking those thoughts. While also putting a lot of energy into what's there and giving life to Reacher, which, those are big shoes to fill. He's very physical, he's intellectually adept, he's also got this really great sense of humor, and he's prone to violence, so there's a lot of different dimensions to this guy that demands all of your attention.
So, it's a blast to be a part of something so well-known throughout the world, but it's not without its challenges bringing that to life.
---
To watch the entire Q&A session with Alan Ritchson, visit https://youtu.be/LBLytC0Ebzk
---
Share this article
[Sassy_Social_Share]