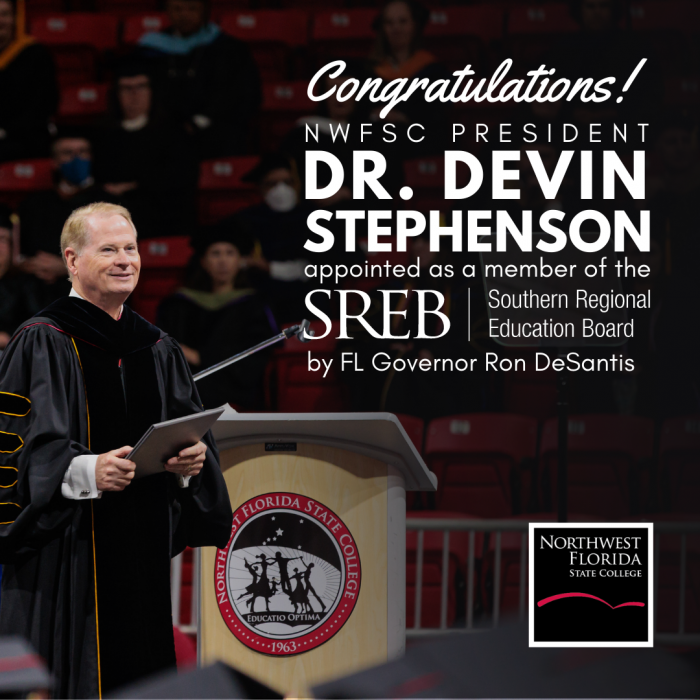 May 19, 2022
NICEVILLE, Fla.– Northwest Florida State College is pleased to announce that its president, Dr. Devin Stephenson, has been appointed as a Southern Regional Education Board member by Florida Governor Ron DeSantis.
The Southern Regional Education Board strives to improve education by providing policymakers with reliable data to inform sound policies, collaborating with states to share resources, and serving educators by providing the training needed to help prepare students for their futures. The board is comprised of 16 member states and four gubernatorial appointees, including at least one state legislator and one educator.  
"I am grateful to Governor Ron DeSantis for the opportunity to serve on the Southern Regional Education Board," said Dr. Devin Stephenson. "I look forward to working alongside fellow educators and lawmakers as we continue to transform the educational opportunities in our region and provide our teachers and students with the resources they need to succeed." 
Dr. Stephenson has dedicated over 30 years to working in higher education and is a current member of the Florida Delegation for the Southern Association of Colleges and Schools Commission on Colleges. 
Serving alongside Dr. Stephenson are newly appointed members, Florida Representative Alex Rizo, Megan Crombie from Florida State University School, and Chancellor and Founder of Keiser University and Southeastern University, Arthur Keiser.
For more information on the Southern Regional Education Board, please visit https://www.sreb.org.
---
Share this article
[Sassy_Social_Share]