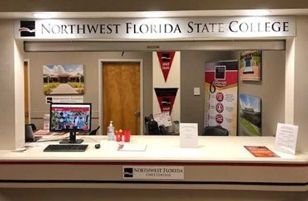 August 11, 2022
NICEVILLE, Fla.- Northwest Florida State College has been named a recipient of the 2022 CLEP Honors National Military Achievement Award.
The CLEP Honors Award recognizes College Level Examination Program (CLEP) test centers that administer high volumes of CLEP exams throughout the academic year. These exams enable students to earn college credit for introductory-level courses by achieving satisfactory scores on subject-specific tests.
The CLEP program is administered by College Board, the same organization that administers the SAT required for admission at undergraduate institutions and colleges.
CLEP Honors Awards are presented in two categories to a set number of qualifying centers, and awards are given based on exams administered from July 1-June 30 of each academic year. Northwest Florida State College has been identified as a top 20 CLEP site for administering the highest CLEP exam volumes to DANTES-funded test takers during 2021-2022.
"We are honored to be recipients of the CLEP Honors National Military Achievement Award," said NWFSC President Dr. Devin Stephenson. "We recognize all of the sacrifices our service members make, and we are proud to support the military community as we provide them with opportunities to pursue their educational goals as they continue to serve our country."
For more information on NWFSC's CLEP testing site at Hurlburt Field, please contact Julie Payne, NWFSC Testing Coordinator, at evansj14@nwfsc.edu or 850-729-6014.
---
Share this article
[Sassy_Social_Share]