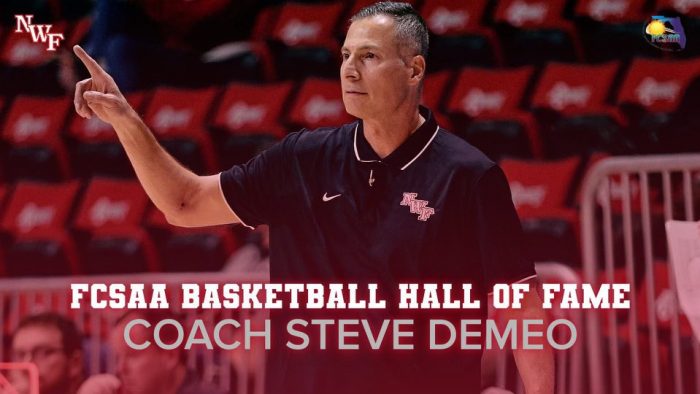 March 7, 2023
Niceville, Fla. – The Florida College System Activities Association (FCSAA) announced that Steve DeMeo will be inducted in the Men's Basketball Hall of Fame as a member of the Class of 2023. DeMeo is the head coach for the Northwest Florida State College (NWFSC) Raiders men's basketball team and will be recognized during this week's FCSAA/NJCAA Region VIII Men's Basketball Tournament at Raider Arena.
Spanning three decades and across all levels of the college game, DeMeo's achievements are well-known throughout the greater basketball community. In 2015, he took NWFSC to a national title and was named the Spalding NJCAA National Coach of the Year. Under DeMeo's direction, the Raiders turned in a six-year record of 170-27 (.863), earned an additional berth in the 2017 NJCAA Final Four, and advanced to the Elite Eight in 2016, 2018, and 2019.
With DeMeo at the helm, the Raiders captured the Panhandle Conference Championship five-straight years (2015-19) and earned four FCSAA State Tournament Championships in 2015, 2016, 2018, and 2019.
"I am extremely proud of Coach DeMeo for earning this recognition as an inductee of the FCSAA Men's Basketball Hall of Fame," said Dr. Devin Stephenson, NWFSC president. "His integrity, passion, and decision-making skills make him one of the best, and this recognition is well-deserved."
For more information on Raider Athletics, please contact Brady Peters, the athletic coordinator, at petersb5@nwfsc.edu.
---
Share this article
[Sassy_Social_Share]