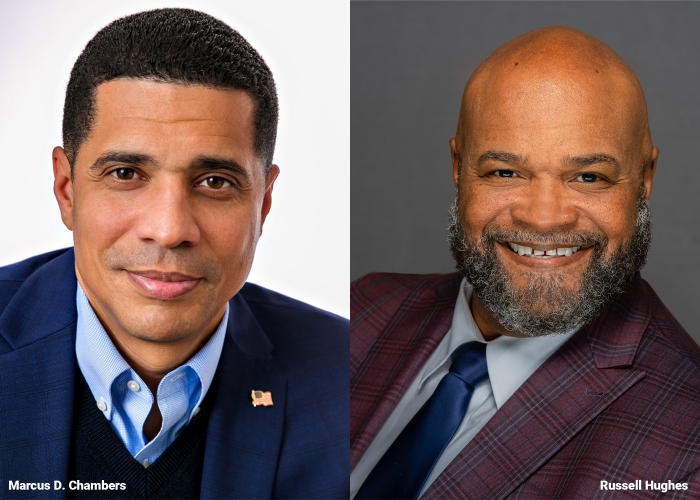 April 13, 2023
NICEVILLE, Fla. – Northwest Florida State College is pleased to announce its 2023 Commencement Keynote speakers, Marcus Chambers and Russell Hughes. Northwest Florida State College will host two commencement ceremonies on May 6, 2023, at 10 AM and 2 PM.
Delivering remarks at the 10 AM ceremony will be Marcus D. Chambers, Superintendent of Okaloosa County (FL) School District. Chambers has served students, parents, his community, and fellow educators for more than 25 years. Having served in a variety of educational leadership positions, Chambers is proudest of his years spent in the English Language Arts classroom from 1998-2003 because that is when he discovered a foundation for helping students achieve their educational goals. In 1999, his peers recognized his capabilities for helping students and named him First Year Teacher of the Year for Ruckel Middle School.
Awards such as the Okaloosa County Reading Leader of the Year in 2010 and the Martin Luther King Jr. Academic Achievement Award in 2013 demonstrate Chambers' commitment to training and development. He is passionate about giving back to his community and was awarded the Southern Hero Award for Outstanding Community Service and Leadership in 2010. Chambers has been happily married for 24 years to Krissinda, an English and Leadership Teacher at Niceville High School. Together, they have two children, Peyton and Camden.
During the 2 PM ceremony, remarks will be given by Russell Hughes, Superintendent of the Walton County (FL) School District. Hughes' experience in education spans 32 years and includes serving as a teacher, Dean of Students, Head Football Coach and Assistant Principal at the middle school and high school levels, and, since November 2016, as the Elected Walton County Superintendent of Schools.
As principal for fourteen years, Mr. Hughes, a Crestview High School graduate, led two diverse and challenging schools to A+ and B grade designations. His schools also achieved state and national recognition for performance in assessments and graduation rates. Hughes serves on numerous committees including the Florida School Music Association, the Panhandle Area Education Consortium Board of Directors, the Walton County Economic Development Alliance, and the Florida Association of District School Superintendents Board of Directors. For serving as a champion in keeping children first and always doing what is needed to protect them, Mr. Hughes was presented the First Superhero Award by the Emerald Coast Children's Advocacy Center. Hughes is married to the love of his life, Lori, also an educator. Together they have two children, Melvin and Micah, who are both lifelong learners.
"Northwest Florida State College looks forward to introducing Superintendent Marcus Chambers and Superintendent Russell Hughes as our two 2023 Commencement keynote speakers," said NWFSC President Dr. Devin Stephenson. "Both Chambers and Hughes have had remarkable careers in a variety of educational leadership capacities, and we are confident that their success will be an inspiration to our graduates as they cross the stage and receive their diploma."
For more information regarding the ceremony, please visit www.nwfsc.edu/commencement.
---
Share this article
[Sassy_Social_Share]