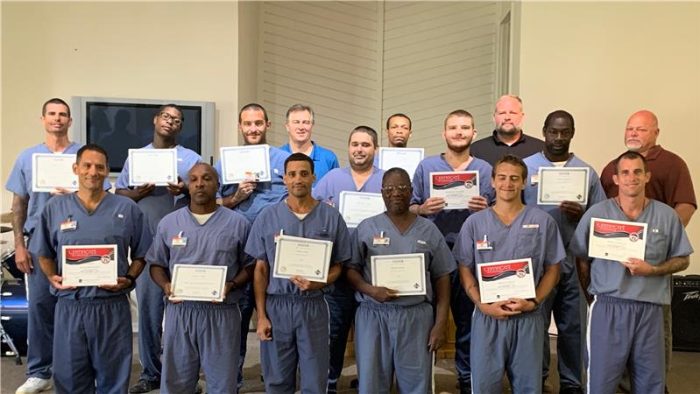 September 21, 2023
PRESS RELEASE
Inmates Earn Certifications at the Okaloosa County Correctional Institution through NWFSC Corrections Program
NICEVILLE, Fla. – This summer, twenty-six inmates from the Okaloosa County Correctional Institution earned skilled trade certifications through Northwest Florida State College (NWFSC). The NWFSC Corrections Program had fourteen who received the Heavy Equipment Machinery certification and twelve who received the Carpentry certification.
The NWFSC Corrections Program is a 6-month trades training program that offers industry certifications to inmates. Students become eligible and are selected in the program once they approach their anticipated release date.  After successfully finishing the program, inmates earn industry certifications in OSHA 10, NCCER Certifications in Core, Construction Safety, Heavy Equipment 1, or Carpentry 1.
"This program embodies NWFSC's commitment to providing opportunities for education and skill development to all individuals," said Dr. Devin Stephenson. "These accomplishments underscore the transformative power of education and the potential for positive change and a brighter future."
The Okaloosa Correctional Institution, a level V facility that houses approximately 900 adult male inmates, is in Crestview, Florida. Offenders can receive substance abuse treatment, earn their GED, and earn certifications through programs such as the NWFSC Trades Training Program while incarcerated at the facility.
For more information about the NWFSC Corrections Program please contact Dennis Braun, Executive Director, Workforce Development, at braund@nwfsc.edu and 850-729-4995. For more information about the Okaloosa Correctional Institution please visit the Florida Department of Corrections or call 850-488-7052.
---
Share this article
[Sassy_Social_Share]