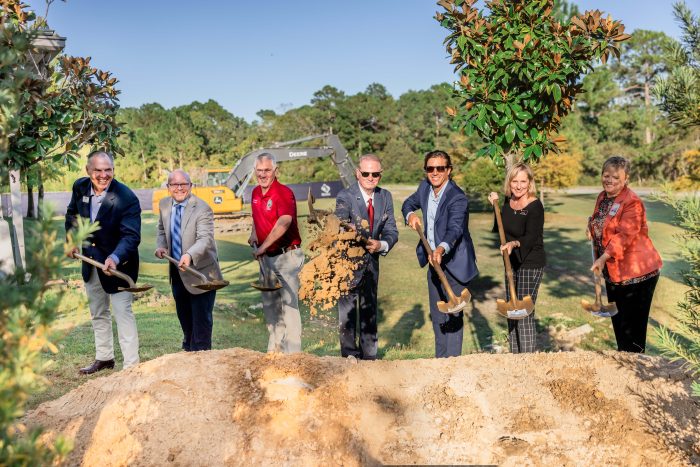 October 4, 2023
PRESS RELEASE
Historic Partnership:  NWFSC and Seacoast Collegiate High School Break Ground on New Dual Enrollment & Workforce Development Center
NICEVILLE, Fla. – In a partnership aimed at transforming educational opportunities in Walton County, Northwest Florida State College (NWFSC) and Seacoast Collegiate High School were thrilled to break ground on a new Dual Enrollment and Workforce Development Center. The highly anticipated celebration and ceremony was held on October 2, 2023, at Seacoast High School, with a reception held immediately following at North Beach Social.
The strategic efforts of NWFSC and Seacoast Collegiate High School signify a shared commitment to provide students with innovative pathways, seamlessly blending high school education with college coursework and essential workforce skills. Further, the center will provide students with an unparalleled educational experience, redefining educational possibilities for high school students.
"This groundbreaking ceremony marked a pivotal moment in education in Northwest Florida," said NWFSC President Dr. Devin Stephenson. "This collaboration will stand as a testament to the innovative spirit of both institutions. Collectively, we are at the forefront of revolutionizing a model that will transform the educational landscape, equip students for the challenges of the current workforce, and empower the next generation with enhanced academic and career pathways."
The new facility will include three buildings, provide a dual enrollment educational center housing Seacoast and NWFSC classrooms, and have a shared-use space for workforce development, continuing education, and other workforce preparedness instruction. The Seacoast Collegiate High School capital campaign goal for this expansion is $30 million. In 2023, State of Florida legislatures appropriated $9 million for the Seacoast Collegiate High School project. Additionally, baseball Hall of Famer Mr. Tom Glavine and his wife, Chris, contributed $1 million in capital campaign funds. Seacoast Collegiate High School is open to all Walton County residents. The project completion date is 2025.
For more information about Seacoast High School and Collegiate Center, please visit Seasideschools.net. For more information about Northwest Florida State College, please visit NWFSC.edu or contact the Office of Strategic Communications at stratcomm@nwfsc.edu and 850-678-5111.
---
Share this article
[Sassy_Social_Share]