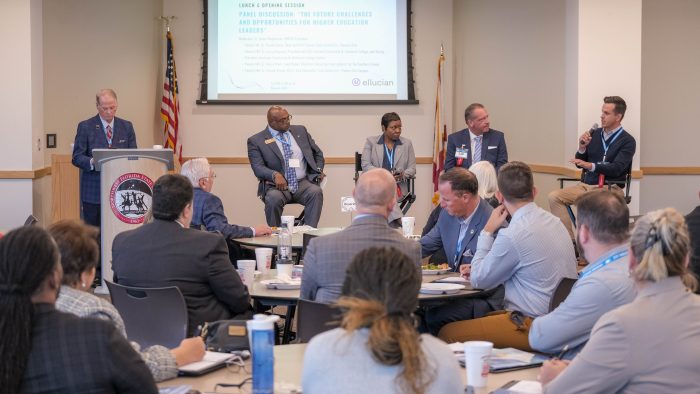 October 10, 2023
NICEVILLE, Fla. – Northwest Florida State College (NWFSC) was honored to host the prestigious 2023 Higher Education Innovation (HEI) Presidents' Conference from October 9-10, at its Niceville campus. This significant event attracted higher education leaders from all over the nation.
With the dynamic shifts in the higher education sector, HEI underscores the imperative for transformative change in both institutional structures and leadership approaches. This year's conference theme centered on "The Entrepreneuring Frontier: Envisioning the Future of Higher Education." Participants delved into actionable strategies, emerging trends, innovative research, entrepreneurial methodologies, cutting-edge tools, and other forward-thinking topics. Distinguished speakers, in-depth training sessions, and interactive breakout discussions provided attendees with a platform to share insights, explore groundbreaking concepts, and pave the way for a prosperous future for educational institutions.
NWFSC President Dr. Devin Stephenson expressed, "The Raider community was deeply privileged to host the 2023 HEI Presidents' Conference. Sharing insights and collaborating with such dedicated professionals truly shapes the roadmap for the next era of higher education."
"We are so grateful to President Devin Stephenson and Northwest Florida State College, as well as Florida State University-Panama City for sponsoring the 2023 HEI Presidents' Conference," conveyed Dr. Mary Landon Darden, president of Higher Education Innovation, LLC. "This is an exciting time for higher education, and we are here to do the essential work of preparing for the extreme change that faces us now and in the future! We welcome our group of college and university presidents, chancellors, and leaders. Together, we transform higher education."
HEI stands as a pioneering force in the education sector, merging research, tried-and-true methods, and a network of industry experts to support colleges in achieving transformational growth.
For more information about Northwest Florida State College, please visit Northwest Florida State College at nwfsc.edu or Higher Education Innovation Presidents' Conference at heisuccess.com.
---
Share this article
[Sassy_Social_Share]