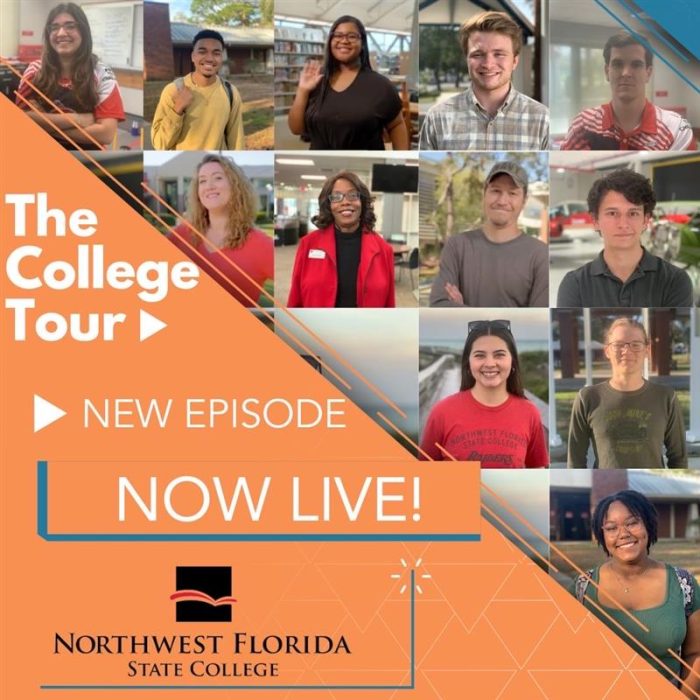 October 18, 2023
PRESS RELEASE
Northwest Florida State College Featured in Season 9 of The College Tour Now on Amazon Prime Video
Award-Winning TV Series Brings Northwest Florida State College Directly to Viewers, Sharing Authentic Student Stories While Highlighting the College Experience. 
NICEVILLE, Fla. – Northwest Florida State College (NWFSC) is featured in season 9 of The College Tour, a groundbreaking series from Emmy-nominated producers Alex Boylan, Lisa Hennessy, and Burton Roberts, now streaming on Amazon Prime Video. Hosted by The Amazing Race winner Alex Boylan, The College Tour travels the country telling the story of various institutions through the diverse lens of students, giving the viewer an intimate portrayal of life on campus. Inspiring and motivating, the show serves as a vehicle to help students across the world connect with higher education, enabling them to make informed decisions about their future without having to travel and visit campuses!
"It is an honor that NWFSC was chosen to be featured on The College Tour TV Series," said Dr. Devin Stephenson, President of NWFSC.  "It's a testament to the dedication and exceptional talent of our students, faculty, and staff.  This is an opportunity for our institution to share its commitment to excellence in education and innovation, and we look forward to sharing our story with a broader audience."
Shining a spotlight on the diverse landscape of today's colleges, The College Tour offers viewers a comprehensive look at campuses across the country, highlighting the many resources and opportunities that are helping students thrive. NWFSC offers students an extraordinary experience, and we're so excited to share that on The College Tour," said Alex Boylan. "Choosing which college to attend is a monumental decision, and this episode gives prospective students a first-hand look at what makes this school so special."
About: 
The College Tour is a groundbreaking TV series that takes the viewer on an intimate journey through campuses across the country, telling each school's story through the diverse lens of its students. Hosted by The Amazing Race winner Alex Boylan, The College Tour brings equity to college readiness by providing a platform to access comprehensive and meaningful information regarding higher education anytime and anywhere, free of charge. The College Tour is available on Amazon Prime Video and at www.thecollegetour.com.
Northwest Florida State College (NWFSC) stands as the foremost educational institution in the region, with two campuses, five education centers, and a range of online and dual enrollment options. NWFSC's mission is to prepare today's students for tomorrow's success. Guided by a vision to transform lives through exemplary, relevant programs and educational experiences meeting the workforce demands of our ever-changing economy.
For more information about NWFSC please visit NWFSC.edu or please contact the Office of Strategic Communications, at stratcomm@nwfsc.edu and 850-678-5111.
---
Share this article
[Sassy_Social_Share]