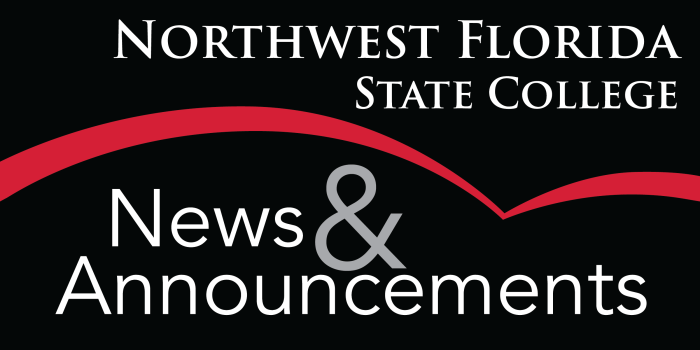 October 19, 2023
PRESS RELEASE
 FL Governor Ron DeSantis Appoints Five Board Members to NWFSC's Board of Trustees
 NICEVILLE, Fla. – Governor Ron DeSantis of Florida has made five key appointments to the Board of Trustees at Northwest Florida State College (NWFSC).
Cory Fosdyck, Senior Vice President, and Senior Resident Director for Merrill Lynch is dedicated to community service. He's spearheaded initiatives at the Emerald Coast Children's Advocacy Center, offered his expertise to Ascension Sacred Heart Hospital, and once led the Walton County Chamber of Commerce. He is a Senior Vice President and Senior Resident Director for Merrill Lynch.
Kristen "Rhea" Goff is the Chief Administrative Officer and a Senior Vice President of the St. Joe Company. Her influence extends to the Great Northwest Foundation in Florida, and she actively contributes to the South Walton High School's advisory board for business and culinary arts.
Megan Harrison serves as President and Chief Executive Officer of the Walton County Chamber of Commerce. She's known for her work with the Walton County Economic Development Alliance and has strong ties to the Florida Restaurant and Lodging Association in the Northwest Florida Region.
Returning to the board are Donald Litke and Thomas "Rudy" Wright. Litke, an esteemed Major General retiree of the U.S. Air Force, founded the Joyful Place Memory Care Ministry. Wright, another celebrated U.S. Air Force Major General retiree, made notable contributions at the NATO Headquarters in Belgium, earning him the Bronze Star.
Dr. Devin Stephenson, President of NWFSC, expressed, "We're thrilled to welcome such distinguished individuals. Their diverse backgrounds and unwavering dedication ensure a promising path ahead for the College."
Note: These selections await the Florida Senate's nod. For more information on NWFSC's Board of Trustees, please contact the Office of the President at 850-729-5360 or email at wolfm@nwfsc.edu.
---
Share this article
[Sassy_Social_Share]