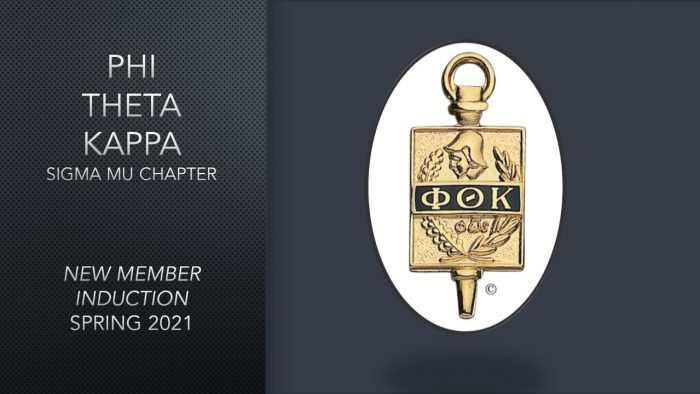 February 23, 2021
The Sigma Mu Chapter of Phi Theta Kappa at Northwest Florida State College is a thriving program – virtually inducting 78 new members in mid-February.
Phi Theta Kappa (PTK) is the international honor society of two-year colleges and academic programs that promotes leadership, fellowship, service and scholarship. Eligibility for membership requires students to have completed at least 12 hours of associate degree course work and keep a cumulative grade point average of 3.5 or above.
NWFSC's Sigma Mu Chapter of PTK continued its distinction as a Five Star Chapter status, earning this top merit award for three years running.
"Our PTK Chapter continues to outshine the rest, showing that our students and faculty members are dedicated to academic excellence and leadership development," said Dr. Devin Stephenson, President of NWFSC. "Congratulations to each new member of this prestigious organization."
This year's inductees include:
Ashton Alcares
Marcela Andoni
Rocio Andujar
Kayla Ashby
Jessica Badders
Shaunna Bailey
Anabel Barbee
Bethany Benefield
Stephanie Benefield
David Brake
Mary Brandt
Angela Brown
Emmy Brown
Grace Burchell
Jenna Bush
Nadia Cain
Ferrin Campbell
Brandi Chance
Campbell Cleveland
Maggie Cobb
Karmen Coffin
Baylee Davis
Karly Ebright
Ed Eich
Benjamin Farnum
Braya Faust
Haley Fitch
Jessica Fortenberry
Mary Frank
Katherine French
Shelby Godbee
Breanna Guthrie
Katherine Haerer
William Hancock
Ne'Kailah Harrison
Allison Horton
Yuliia Hrynchenko
William Hubbard
Ariel Hynes
Carlin Jones
Landon Jones
Marilou Ketcham
Hannah King
Wyatt Koepp
Isabella Lamon
Adam Lance
Ngoc Le
Keeley Leakos
Parker Lee
Kaili Limousin
Ayako Listo
Kyla Lloyd
Wallace McCarty
Caleb McSwain
Devon Miller
Alex Morton
Dylan Nearbin
Simon Neidigk
Valerie Nusimow
Vernice Peart
Kimberlyn Porter
Amanda Richardson
Adrian Rumbough
Sarah Savage
Jihan Seay
Madison Sexton
Marianna Sheline-Lopez
Jared Smith
Megan Smith
Reghan Spence
Domenica Stevens
Emma Sumpter
Willa Urbanczyk
Christina Walden
Jolynn Wenner-Foy
Cayley Willcox
Robert Wilhoite
Latishia Williamson
---
Share this article
[Sassy_Social_Share]