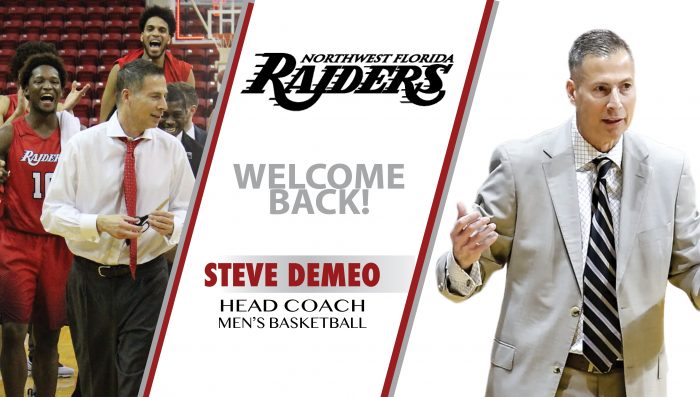 April 4, 2022
NICEVILLE, Fla.- Steve DeMeo has been named the new men's head basketball coach at Northwest Florida State College (NWFSC). NWFSC President Dr. Devin Stephenson and Athletic Director Ramsey Ross announced this morning that DeMeo will be returning to the College to coach the Raiders after serving as the assistant head basketball coach for East Carolina and St. John's University.
"Our College feels incredibly fortunate to have Coach DeMeo lead our men's basketball program again," said Ramsey Ross. "His previous tenure here was extraordinary and we could not be more excited to see what awaits in the next chapter. It was important to us to sustain the tremendous momentum of our men's basketball program from this past season and we feel bringing Coach DeMeo back to the Raider community does just that."
DeMeo was the head coach at Northwest Florida State College from 2013 to 2019. During his time at the College, he attained more conference, regional, and state championship titles than any other coach in the College's history, leading the Raiders to five Panhandle Conference Championships, four FCSAA State Championships, and the 2015 NJCAA National Championship. Under his leadership, the Raiders also made three Elite Eight appearances and a 2017 Final Four appearance.
Throughout his career, DeMeo has thrived at every level and is widely considered one of the most elite recruiters in the country. Coach DeMeo was named the Panhandle Coach of the Year five times and the FCSAA Coach of the Year four times while at NWFSC. He also assisted 40 student-athletes in receiving D1 scholarships and held the College's highest winning percentage in its history. In addition, he has also developed eight NBA players, a CAA Player of the Year, a South Atlantic Conference All-Freshmen Player, and a Conference USA Player of the Year.
"We are pleased to welcome back Coach DeMeo as the men's head basketball coach," said Dr. Devin Stephenson. "Northwest Florida State College strives to produce the best student-athletes in this region by providing them with the support, leadership, and resources they need to excel on and off the court. We are confident that they will continue to develop and succeed under Coach DeMeo's leadership and are excited to see what is in store for them next season as we continue to celebrate their recent win at the NJCAA Men's Basketball National Championship."
For more information on Northwest Florida State Athletics, please contact Ramsey Ross, Northwest Florida State College Athletic Director, at (850) 729-5358 or ramseyr@nwfsc.edu.
---
Share this article
[Sassy_Social_Share]