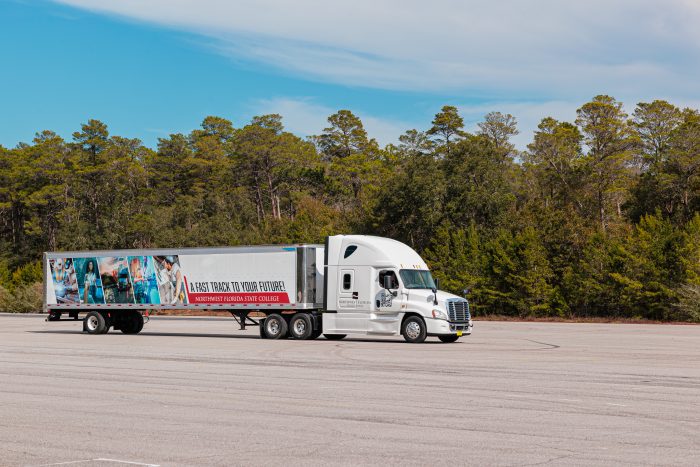 August 9, 2022
NICEVILLE, Fla.- The U.S. Department of Transportation has awarded Northwest Florida State College a grant of $186,480 to cover student expenses for the College's Commercial Driver's License (CDL) program.
NWFSC's eight-week CDL program prepares students to become Class A license holders by training them on how to complete full bumper-to-bumper inspections, execute controlled-skills maneuvers, and drive vehicles on the road. Training is spread out over 320 hours in the classroom and on the driving pad. Students use a state-of-the-art simulator to practice in specific weather and traffic conditions and are taught how to respond to different scenarios.
The College established the CDL program and CDL testing site in 2020 after receiving a Pathways to Career Opportunities grant from the Florida Department of Education. The program provides Okaloosa and Walton County residents with opportunities to achieve economic prosperity through expanded career education. It also increases the number of individuals receiving commercial motor vehicle operator safety training and reduces the number of crashes on U.S. roads.
The new grant from the U.S. Department of Transportation will cover tuition, books, and uniform expenses for 26 students who wish to complete the eight-week program, as well as testing fees for 20 additional students who need to test for their licenses and do not require training. The grant will also be used to serve current and former members of the armed forces and their families by providing them with superior safety-focused training and placement services to assist them in becoming employed in the transportation industry.
According to the U.S. Bureau of Labor Statistics, truck drivers account for approximately one of every five jobs in the transportation and warehousing industry. The occupation is expected to grow over 8% nationwide and 21.85% in the Okaloosa and Walton Counties over the next 10 years.
"We are grateful for the Department of Transportation's support as we work toward providing a trained workforce for the next generation," said NWFSC President Dr. Devin Stephenson. "This grant will directly support our CDL students, providing them with the funding they need to pursue their career goals and dreams. We hope to continue to expand this program as we create more opportunities for our military community and underserved populations."
For more information about NWFSC's CDL program and testing site, please contact Michael Emigh, Director of Advanced Technology & Applied Science, at emighm@nwfsc.edu or 850-729-6022.
---
Share this article
[Sassy_Social_Share]