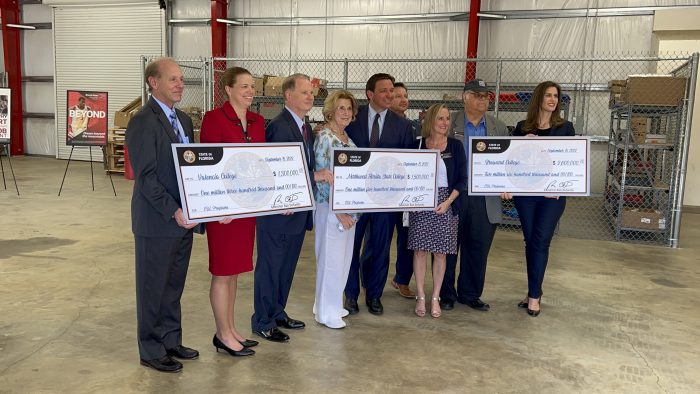 September 15, 2022
NICEVILLE, Fla.– Florida Gov. Ron DeSantis visited Northwest Florida State College (NWFSC) this morning to announce a $1.5 million Job Growth Grant for the expansion of the College's Commercial Driver's License (CDL) Program.
NWFSC introduced its CDL program last September after receiving a $413,836 grant through the CARES Act Governor's Emergency Education Relief (GEER) Rapid Credentialing Program. The funding allowed the College to purchase trucks, trailers, hydraulics, and state-of-the-art mechanical drive learning systems. It also enabled the College to establish an official testing site for anyone wishing to obtain their CDL.
"In Florida, over the past three years we have made significant investments into workforce education, with an emphasis on trucking and the entire transportation industry," said Gov. Ron DeSantis. "With today's announcements, we have now increased our CDL training capacity at state institutions from less than 1,000 prior to 2019 to more than 3,500. These investments are driving the growth of our rural communities and state as a whole."
Since last year, NWFSC has received over $4.3 million in grant funding from Gov. DeSantis to increase the College's capability to provide short-term, in-demand, high-wage occupation, workforce programs.
"We are incredibly grateful for Gov. Ron DeSantis' support as it has enabled Northwest Florida State College to play a vital role in assisting residents in Northwest Florida to achieve economic prosperity through expanded career education," said NWFSC President Dr. Devin Stephenson. "We look forward to continuing our work alongside Gov. DeSantis as we make Florida the number one state in the nation for workforce education and expand the educational opportunities for the citizens of this region."
The College's eight-week CDL program prepares students to become Class A license holders by training them on bumper-to-bumper inspections, controlled skills maneuvers, and driving conditions. The training is spread over 320 hours in the classroom and on the driving pad. Students use simulators to practice in specific weather and traffic conditions and are trained to respond to different scenarios. To date, NWFSC has awarded 296 Commercial Driver's Licenses.
For more information about NWFSC's CDL program and testing site, please contact Tammy Ramsey, CDL Program Coordinator, at ramseyt@nwfsc.edu or 850-729-5301.
---
Share this article
[Sassy_Social_Share]