A Service Organization for Senior Professionals
About the Institute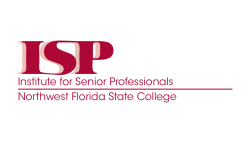 The Institute for Senior Professionals is a College-supported independent group of substantially retired citizens who wish to use the knowledge and skills they have acquired during their public and private careers for the benefit of non-profit and government entities in our greater Okaloosa-Walton community.  They are "giving back" through voluntary uncompensated advisory assistance to organizations whose missions are dedicated to the public interest.
Membership
Membership in ISP is by invitation to candidates who have demonstrated understanding of the ISP mission and their preparedness to support it. ISP offers senior professionals the opportunity to work in small project teams with outstanding members of our communities, college faculty and staff to help analyze important problems and offer pro bono advice. The members of ISP meet on a regular basis to exchange ideas, review requests for assistance from government agencies and non-profits, hear task force progress and reports and listen to invited speakers from various fields on subjects of current interest.
Contact ISP
Loyal L. Weaver
Chair, ISP
(850) 678-7858
weavell@cox.net
Rudy Wright
Membership Chair, ISP
(850) 496-9389
rudy.wright@yahoo.com
Events Coordinator
ISP Staff Assistant
(850) 729-5366
events@nwfsc.edu
Jill Hogland
Vice Chairman, ISP
Barry Steiner
ISP Secretary
Fred Ketchem
ISP Treasurer

History & Purpose
The College established the Institute by the Board of Trustees on March 19, 1991.  ISP contributions to education, economic development, charitable causes, public welfare, and government are chronicled in the studies and reports listed in the ISP website and in the activities pursued by its various committees. It is our intent to continue to focus our attention on issues that affect our community and to bring our collective wisdom to bear on improving the quality of life.
Past Projects
2019
Okaloosa County Risk Management Division Report
Niceville High School Choral Music Program Report
---
2018
City of Crestview, Homelessness Project
Okaloosa County, Transit Project
Montessori Learning Center of Ft. Walton Beach, Study
---
2017
Okaloosa County Public Works Fleet Operations Report
ARC of the Emerald Coast Aquatic & Education Center Budget Development Report
NWF State College Joint Utility Infrastructure Center of Excellence Study
GRACE Rides Operations & Budget Development Report
Beulah SMART Academy Project
---
2016
Okaloosa County Solid Waste Management Review
Community Solutions Business Concept of Operations Plan
Okaloosa County Growth Management Department Key
Rhonda Coon Women's Home Strategic Plan
Beulah SMART Academy Project
---
2015
Seniors Alone Brochure and Report
City of DeFuniak Springs Strategic Plan
Heritage Museum Strategic Plan
Habitat for Humanity of Walton County Report
City of Niceville CRA Application
Walton County Sheriff's Office Fleet Management Report
---
2014
Children in Crisis Branding Study
Heritage Museum Strategic Plan
Walton County TDC Study
Fort Walton Beach Women's Club Strategic Plan
City of DeFuniak Springs Opportunities and Needs
2013
City of Crestview Sports Complex Feasibility Study
Walton County Economic Development Alliance Strategic Plan
Vote Center
YMCA of the Emerald Coast Financial Analysis
---
2012
Opportunity Inc. – Homeless Needs Assessment for Okaloosa and Walton County
Department of Children and Families Non-Profit Organization Umbrella Model
University of West Florida Center on Aging Veterans Needs Analysis
---
2011
North Bay Fire District Budget Analysis
Walton County Budget Project
Fresh Start Strategic Plan
Okaloosa County 911 Consolidation Review
---
2010
Charter Government Education Process
Sustainable Okaloosa
City of Valparaiso Charter Study
Okaloosa County "Scrub" Team Report
---
2009
Municipal Solid Waste Study
Okaloosa County Fuel Optimization Study
---
2008
Walton County Domestic Violence Work Group Study
Air Force Armament Museum Study
Walton County Local Mitigation Strategy
Heritage Museum Feasibility Study
Okaloosa County Courier Efficiency Study
---
2007
Emerald Coast Chorus Marketing Plan
City of Freeport Comprehensive Plan Evaluation and Analysis Report
Horizons of Okaloosa County Childcare Facility Feasibility Study
Ocean City-Wright Fire Department Study
---
2006
OWC Nursing Program Training Procedure Review
City of Freeport Growth Study
---
2005
Youth Village Business Plan
Prime Time Program Review
Okaloosa County After-Ivan Action Report
Ocean City-Wright Fire Control District Strategic Plan
---
2004
Children in Crisis Business Plan
Heritage Museum Refined Strategic Plan
City of Valparaiso Public Works Review
Town of Cinco Bayou Comprehensive Plan Review
Town of Shalimar Comprehensive Plan Review
---
2003
Children in Crisis Strategic Plan
Heritage Museum, Valparaiso, Mission Statement and Strategic Plan
Review, City of Valparaiso Public Works
Review Comprehensive Plans, Town of Shalimar and Town of Cinco Bayou
American Cancer Society Transportation Plan
---
2002
City of Destin Performance Evaluation 

(Procedure and job description for City Manager; Global Management Control System)

Review, Choctawhatchee Basin Alliance
---
2001
Okaloosa County Judicial System, Cost of Court Cases
---
2000
Metropolitan Planning Organization (MPO), Improving Transportation Planning Process and Citizen Involvement
AmeriCorps of Fort Walton Beach, Sustainability Plan
City of Crestview, Worked with EDC in developing Enterprise Zone Application